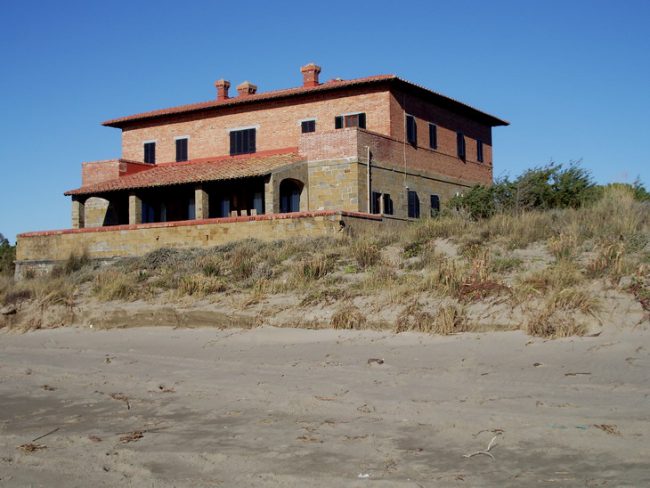 Marina di Grosseto
Seaside hamlet of the municipality of Grosseto, it was born in 1793 with the completion of the tower wanted by Ferdinand III of Tuscany.
Previously known by the name of San Rocco, a fishing village with its sedge huts and a few masonry houses and characteristic shacks, it has transformed into the current locality where villas, modern buildings, restaurants, banks have created a dimension that is now a town . It is known for its hilly hinterland rich in Mediterranean scrub and for the wide beaches overlooking the Tyrrhenian Sea, with a vast pine forest, known as Pineta del Tombolo, which extends from Punta Ala to the Uccellina Mountains.
The town center develops at the mouth of the San Rocco emissary canal, on the border with the Maremma Natural Park, not far from Bocca d'Ombrone, the mouth of the Ombrone river.
To visit there is the Forte delle Marze, located in the coastal stretch that from Marina di Grosseto arrives at Castiglione della Pescaia, it is a fortified structure built in the eighteenth century on the site of a previous watchtower, and performed functions of sighting, defense and salt harvesting. Subsequently transformed into a luxurious villa, it is still privately owned today.
The Feast of San Rocco is the patronal feast which is also the main tourist event and attraction of the bathing season. Every August 16, before midnight, the festivities reach their climax with the suggestive with a parade of allegorical floats for the walk in the center, and with fireworks launched from the seashore that illuminate the beach crowded with spectators.
Furthermore, Marina di Grosseto is connected to the city with the Grosseto-Marina di Grosseto cycle path, to Principina a Mare with the Marina di Grosseto-Principina a Mare cycle path, and to Castiglione della Pescaia with the Marina di Grosseto-Castiglione della Pescaia cycle path .