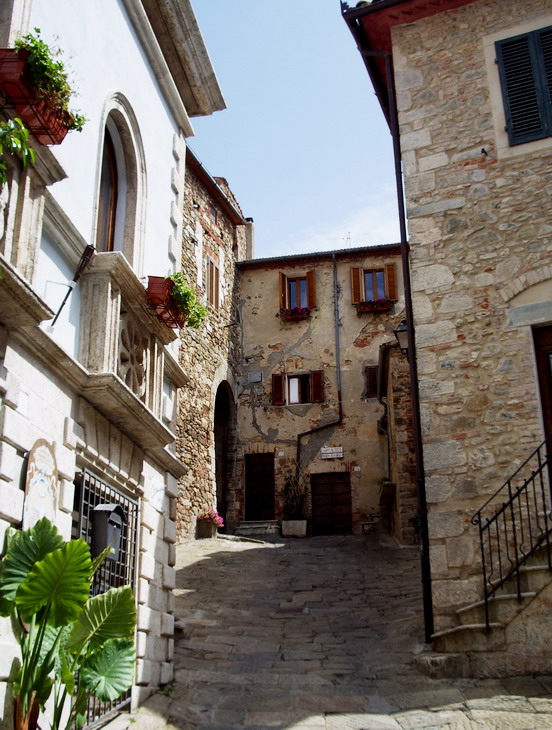 Montemerano
Montemerano is a fraction of the Italian municipality of Manciano, in the province of Grosseto, in Tuscany and since 2014 it has been part of the most beautiful villages in Italy.
In the area there have been archaeological finds that testify to the presence of residential areas relating to the Neolithic period and the Roman era.
The characteristic medieval village was built during the XIII century by the Aldobrandeschi family on the highest part of the hill. In the fourteenth century the control of the town passed to the Baschi family, who led it to submit to Orvieto. During the fifteenth century Siena took possession of Montemerano and transformed it into an imposing fortress.
In the second half of the 16th century, with the definitive fall of the Republic of Siena, the center became part of the Grand Duchy of Tuscany, following its fate from that moment on.
The municipal library of art history is located in Montemerano: it is a specialist public library that contains over 10,000 volumes of art history. It was inaugurated on 1 November 2012 thanks to the donation to the Municipality of Manciano of a fund of about 6,500 volumes by the historian and art critic Marilena Pasquali.
Places to visit:
Church of San Giorgio, parish church of the hamlet, was built during the fourteenth century. Inside there are works of great value, including the fifteenth-century Madonna enthroned with Child and saints by Sano di Pietro and the famous Madonna della Gattaiola, the work of an artist known as Maestro di Montemerano.
Pieve di San Lorenzo, it is the oldest church in the village, mentioned in a bull of 1188. Remained deconsecrated over the centuries, it is used as a theater space for cultural events. The characteristic tower of San Lorenzo stands out on the building, originally used as a bell tower.
Church of the Madonna del Cavalluzzo, located just outside the historic center, was built as a rural chapel in the 15th century, but underwent 17th-century renovations that affected the facade and the floor. Inside it preserves a Madonna with Child and Saint Roch and some frescoes dating back to the years between the end of the 15th and the beginning of the 16th century.
Walls of Montemerano: built by the Aldobrandeschi starting from the XII century, they were completed during the following century. Restructuring works were carried out when Montemerano passed under the Republic of Siena, with the construction also of the Cassero complex, and in the Renaissance period, with the construction of the patrol walkways. Three gates open along the walls, the gate of San Giorgio, the Roman gate and the Grossetana gate
Piazza del Castello, a scenic square intact in its medieval layout and stone houses. Its threshold is made up of an arch which opens at the end of a short steeply uphill street.